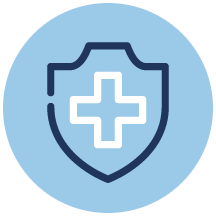 We offer 401(k) plan for employees to make salary-deferral contributions.
Ensure your life is insured.
We offer paid time off sick days, vacation days, and personal days.
Medical/Dental/Vision Coverage
Medical, Dental and Vision offered to all employees.
Flexible start and end times make your commute easier.
Perks - Available at select office locations
On-site daycare at our Corporate office in Nashville, TN.
We believe exercise is benefical for the mind and body.
On-site dry cleaning pickup so you have less to worry about.
Additional Perks and Benefits
Employee Consumer Discounts
Healthcare/Daycare Flexible Spending Accounts
Tuition Reimbursement
Adoption Assistance
Daily Fitness Classes
Onsite Massage
Employee Assistance Program
Employee Stock Purchase Plan
Long-term & short-term disability
Life insurance
Financial education courses
Professional Development Opportunities
Core Values
HealthTrust's core values are the foundation of our business identity. They are the behaviors that will make us successful and create a positive work environment. We want our employees, at every level, to embrace and demonstrate the HealthTrust core values. Our individual behaviors and roles help make our company vision and mission actionable.
HCA has a long and rich history of caring for our community through corporate gifts, foundation investments and employee participation in locally-focused giving campaigns. Each year, our employees generously give their time and money to help our friends and neighbors in need. An important part of our culture and values is to give back as we are able.
Corporate Positions
CoreTrust associates work together in a positive, high-energy environment in our corporate office in Nashville, Tennessee.
Learn more about our Corporate Positions: